You are one of the "snowbirds", who love to spend holidays at places like Florida and Arizona. You must know what to pack for a ski trip. Invest time to include all essentials in your packing to avoid inconvenience and anxiety. Ski gears are bulky so you need to be very specific in choice. The burden of clothing and temperature below freezing point may turn your experience into a nightmare. Foregoing in view, follow the suggested approach to enjoy the ski trip.
The road map of packing for ski trips has been framed with the assumption that the reader is learning about ski trips and collecting information about what to pack for a ski trip.
Take Into Consideration the following Checklists for a Ski Trip
Careful Planning
Poor planning may cause unwanted results such as serious injury, concussions, and frostbite. That's why; draw a well-organized approach for a ski trip.
A Suitcase
Buy a suitcase that is lightweight, sturdy, and moves easily. Don't forget about the weight restrictions if you want to travel by airplane. The suitcase may have enough space to contain all luggage conveniently. It might be equipped with layers and a lock for safety. Buy a suitcase having padding and wheels. The normal roller bag may not be sufficient in the tumble and rough mountains. Before investing money in a suitcase, keep in mind what to pack for a ski trip.
Airlines Rules about Ski Equipment
There is no rule of thumb of airlines regarding the weight of ski equipment. Mostly, airlines count ski equipment as one piece. However, you may have to pay an extra baggage fee if the weight surpasses over 50 lbs. weighing your suitcase/bag at home is a wise decision. Similarly, some airlines have regulated rules about the size of baggage. The average size limit is 60 to 80 linear inches. You must draw the line of difference between necessary and unnecessary articles. Unable to decide? Don't be panic, keep on reading and the article will help you what to pack for a ski trip.
Headphones
You have to explore ski resorts, ascend valleys, and cross lengthy roads to reach the villages. Headphones become the primary need to the pastime while enjoying music.
Portable Power Bank/ Charger
Don't forget to have a portable power bank/charger of good quality. You may not find charging points easily. You need ta o charge a mobile phone or such other gadget if you are listening to music constantly or playing games.
Ski Clothing
Educate yourself before keeping ski clothing in a bag/suitcase. Don't forget to have a waterproof jacket to avoid a lousy experience on mountains and slopes. Prefer clothes having moisture-wicking quality as they keep your body comfy and warm.
Ski Undergarments and Socks
Make sure that the most sensitive body parts are protected and covered. Don't rely on common bras, socks, and underwear on a ski trip. Spend some extra dollars to buy undergarments of extra quality. Get recommendations before investing money. Perfect undergarments keep a person warmer in cold weather.
Always choose sports bras as they are flexible, comfortable, and durable. You have to move probably from 08 AM to 04 PM on the slopes. That's why sports bras are a perfect choice.
Base Layer
If you aren't fed up with washing, three pairs of ski base layers, made of wool, are sufficient for a week trip. In addition, don't forget to buy a neck gaiter. These gears will make sure that your body stays warm even in the stormy climate.
Skull Cap
Having a skull cap in your luggage is equally important. The howling wind may cause serious health problems, so take all necessary measures to ensure your safety. The skull cap warms your head in thundery weather.
Sunscreen
Don't forget to add sunscreen to the essentials list. If this is your first trip, you may not have an idea that how strong sunrays fall on slopes no matter whether it's winter or another season. There is a strong reflection of rays once they strike with snow. It could burn your face if you haven't taken precautionary measures such as tanned face and usage of sunscreen.
Lip Balm
Lip balm is also another imperative addition. Thin air and sun rays may dry your lips. The use of lip balm is a healthy solution to keep one's lips moist.
Don't Forget to Pack Toiletries
If you are figuring out what to pack for a ski trip then creams, paste, and toothbrushes are necessary toiletries that a person should put first in a bag/suitcase. Besides them, adding some medication like muscle plasters, sports tape, painkillers, and aspirin is also a wise choice. However, add these accessories if your suitcase has enough space. The well-reputed resorts & hotels also offer said toiletries. If these are available at accommodation then don't put increase weight of a suitcase.
Everyday Clothes
Warm hats, scarves, mittens, and gloves are imperative everyday clothes. Prepare a list entitled "what to pack for a ski trip" and add these articles. Moreover, you also need to have a nice top, a shirt and jeans pair.
Tablet, Notebook, or Mobile Phone
Add tablet, notebook, or mobile phone to your checklist. Though mobile phones have eclipsed the demand for digital cameras yet professional photographers use these cameras. If you're comfortable with the mobile camera result then prefer the usage of a mobile phone for photography. The trip could be colorless if you forget to add any of these gadgets in what to pack for a ski trip list.
Books
Are you a book lover? Yes! That's amazing. Reading a book while sitting in front of a fire will enhance its taste. So, pack at least one or two of your favorite books to make the trip memorable.
Slippers
Choose a lightweight pair of slippers while going on a ski trip.
Laundry Tips
If you have scheduled the ski trip for a week then you may need a couple of pairs of underwear and base layers. However, you may decrease their burden if you are good at the laundry on the road. Underwear absorbs perspiration while a person is skiing. Salt is left on underwear when it dries. If you wear it again without washing, there will sensation of cold and clammy. Take only two pairs, enjoy skiing the whole day and wash this pair. Before hanging the pair up, don't forget to wring them out. 
Mostly, base layers are manufactured by synthetic material or wool that dry very quickly. By morning, you will be surprised to see that pair of underwear is dry. Comparatively, socks require more time probably 12 hours extra to dry so you should have at least 07 pairs.
Travel Documents & Related Essentials
Don't forget to add the following essentials to your suitcase:- 
Tickets
It could be a frightening experience when you reach the airport and are unable to find tickets. Besides, equip yourself with accommodation, coach and ferry details.
Passport
Ensure that you are carrying valid passports.
Local Currency
Save money by exchanging local currency in your country.
Contact with Your Bank
Inform your bank that you're going abroad to fulfill terms regarding debit/credit cards.
Ski/Travel Insurance
Multiple options are available if you want to get ski travel insurance. Get one if you are interested.
Driving License
Don't forget to add a driving license to the list if you want to rent a car or drive out.
Snacks
Pack some snacks if you are going on to trip with the children. Sometimes, flights or coaches get delayed then snacks backup can be used.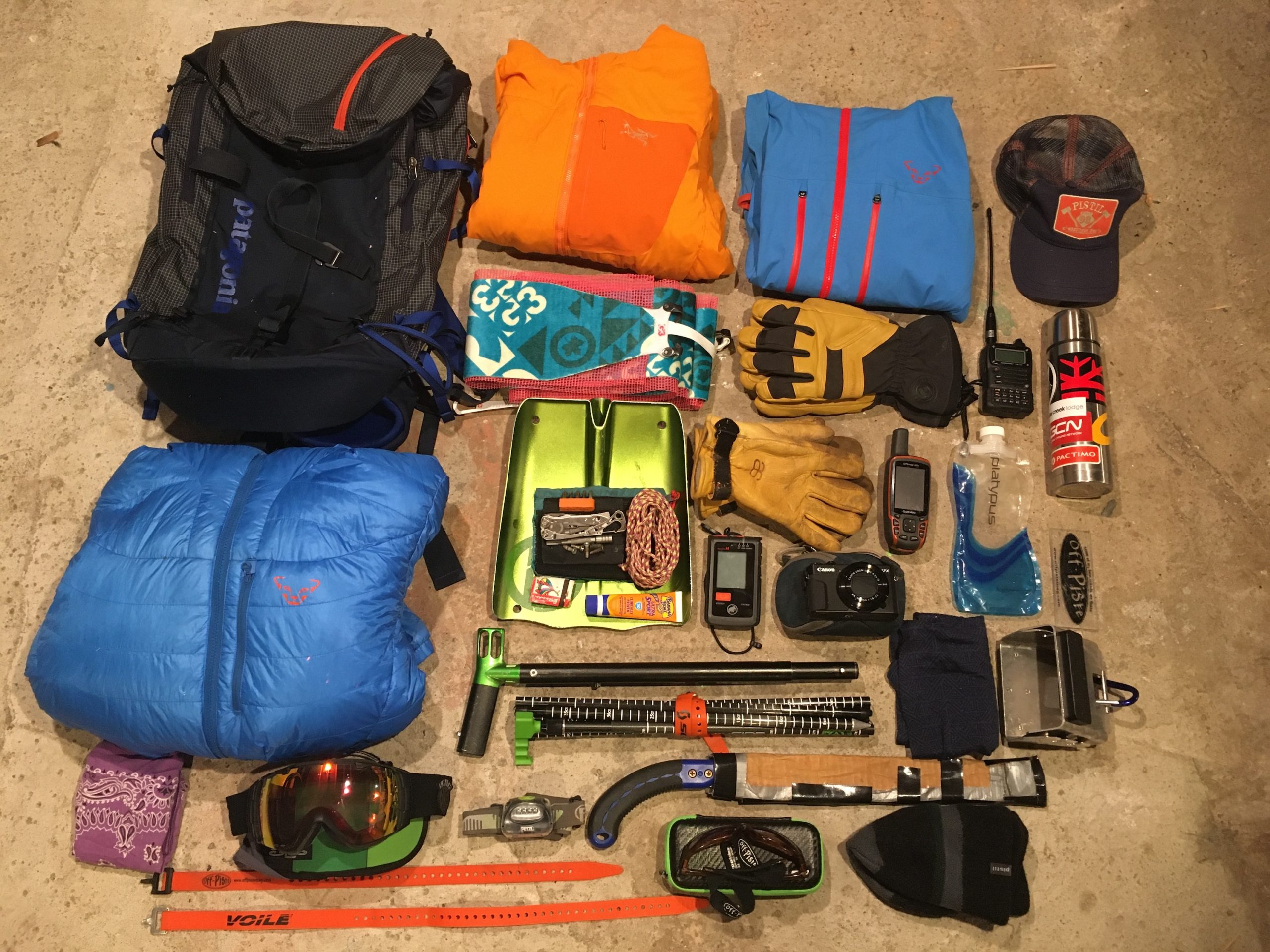 Necessary Equipment on Ski Trip
       

Ski Locks

       

Goggles – this addition isn't necessary if ski hire shops are offering free of cost.

       

Day backpack

       

Helmet

       

Ski Poles – only snowboarders required

       

Sports Equipment Policy of Airlines

       

Ski Boots

       

Snowboard Boats

       

Probe, shovel, and transceiver

       
Ski Clothing
       

Waterproof ski jacket

       

Ski Pants

       

Mittens/waterproof gloves

       

Base layer tops and bottoms

       

Flees Jumpers

       

Swimming costume

       

Trousers/Jeans

       

Jumpers

       

Heavy jeans with belt

       

Heavy sweater

       

T-shirt bra

       

Menstrual cup cleaner
Miscellaneous
Listed niceties aren't fundamental requirements, yet can be very comforting.
       

Walkie-Talkies

       

Battery pack (external)

       

First aid kit (small)

       

Tool (multipurpose)

       

Teabags

       

Warmers for hand/foot

       

Thermal drink flask

       

Water bottle (having refilling quality)

       

Games/Cards

       

GoPro Camera

       

Earplugs & eye mask

       

Travel pillow & Bluetooth speaker

       

Emergency contact card

       

Razor, nail clipper, tweezers, scissors

       

Hygiene Products (conditioner, shampoo, lotions, deodorant, soap)

       

Skin products

        

Hand sanitizer

       

Day pack
Essentials for a Baby
       

Bathing products ( lotion, soap, shampoo)

       

Sweaters

       

Pack (child-carrying)

       

Blanket & stroller

       

Winter hat & sweaters

       

Jacket

       

Spoon & baby food

       

Bibs & wet wipes

       

Diaper bag & disposable diapers
To Sum Up
We hope you may enjoy the amazing ski tour. Skier makes sure that his/her face remains down the mountain. However, boarders may look at their destination. Once again, we wish for your enjoyment and safety. We expect that the article might be a useful manual that contains necessary information regarding what to pack for a ski trip.